🕶e8: 21st Century Gold Rush!!
👋 Good Morning and Happy Sunday! Welcome to the e8 newsletter, a hand-picked collection of business and start-up news, resources for entrepreneurs, job/internship postings, and noteworthy trends that are happening this week! I hope you find this weekly newsletter informative and engaging!
Happy belated New Year for those who celebrated 🍻
---
Business/Start-Up News
🔗Everyone Wants A Cut - But They Will Now Be Cut Out #SmartContracts I know a majority of you guys are college kids; however, before you know it, you'll be gearing up to buy a car or a house - a complex transaction process that usually entails a middleman to act as a trusted party. Many large industry corporations and leaders experience this same type of aggravation with the lack of transparency, and the unnecessary fees involved and, therefore, have been making the push to start exploring the many benefits smart contracts have to offer. If you are new to the concept, allow me to explain! This is something that truly excites me, and although we are still very early, I think the implications and benefits of financial transparency will forever change the way contracts are enforced. Alright let's get right into it!
WhAt dO tHesE tHinGs do
Essentially, a smart contract is an agreement between two parties written in lines of code that are stored on a blockchain and automatically execute predetermined terms and conditions when they are met. What makes these terms and conditions unique is the fact that they run on a blockchain, and therefore, are stored on public databases that cannot be altered (no need to rely on nobody). A simple contract would look like this: 
"If Evan pays Nikola 1,000 Chainlink (a platform that aims to bridge the gap between blockchain technology-based smart contracts), then Evan will receive ownership of that house"
Note: Smart contracts employ the 'If-Then' principle
The Perks
It eliminates the need for a trusted middleman to hold your money in escrow as the seller of a house. Furthermore, the seller no longer has to lose out on the cut that would be given to the middleman. #NoLaywers #NoCommissions #NoMoreDelays #Winning

The smart contracts could also possibly streamline other forms of real property distribution as well - we're talking trusts, leaseholds, rental agreements, etc. If a contract is broken, notification would be instantaneous and the consequences could be immediately enacted 
Ev's Take
Well damn, if this is not blowing your mind go splash some water on your face and read this again! 
But before we wrap it up, I want to address some of the main concerns around this technology, and what must we do in order to overcome "the chasm" as we are currently in the early adopters phase of the cycle (introduction into decentralized finance, and crypto CeFi), to the early majority which entail (Web 2.0, Tech Firms, Fin Tech Early Banks, and more). 
As I've mentioned before, smart contracts are a newly emerging technology. Despite having a lot of promise and potential benefits, the truth is that these codes that make up the contracts CANNOT have ANY code errors or bugs. Moreover, there is no official federal contract law currently in the United States; rather, the enforceability relies upon the interpretation of these contracts at the state level. Until the National Conference of Commissioners on Uniform State Laws is able to consolidate laws across state lines, it still might take some time for us to adopt and gain trust (but hey, short-term hurdles). 
All in all, the use-case of blockchain is huge here. Because these smart contracts are able to work on a decentralized platform (meaning they are not controlled by one central party like a bank, broker, or government, etc.), I believe adoption will grow at an exponential rate, especially during times like these with devaluation of currencies, and the overall effect of increased transparency, reduced and saved fees, and the trust and safety as these contacts are near impossible to hack.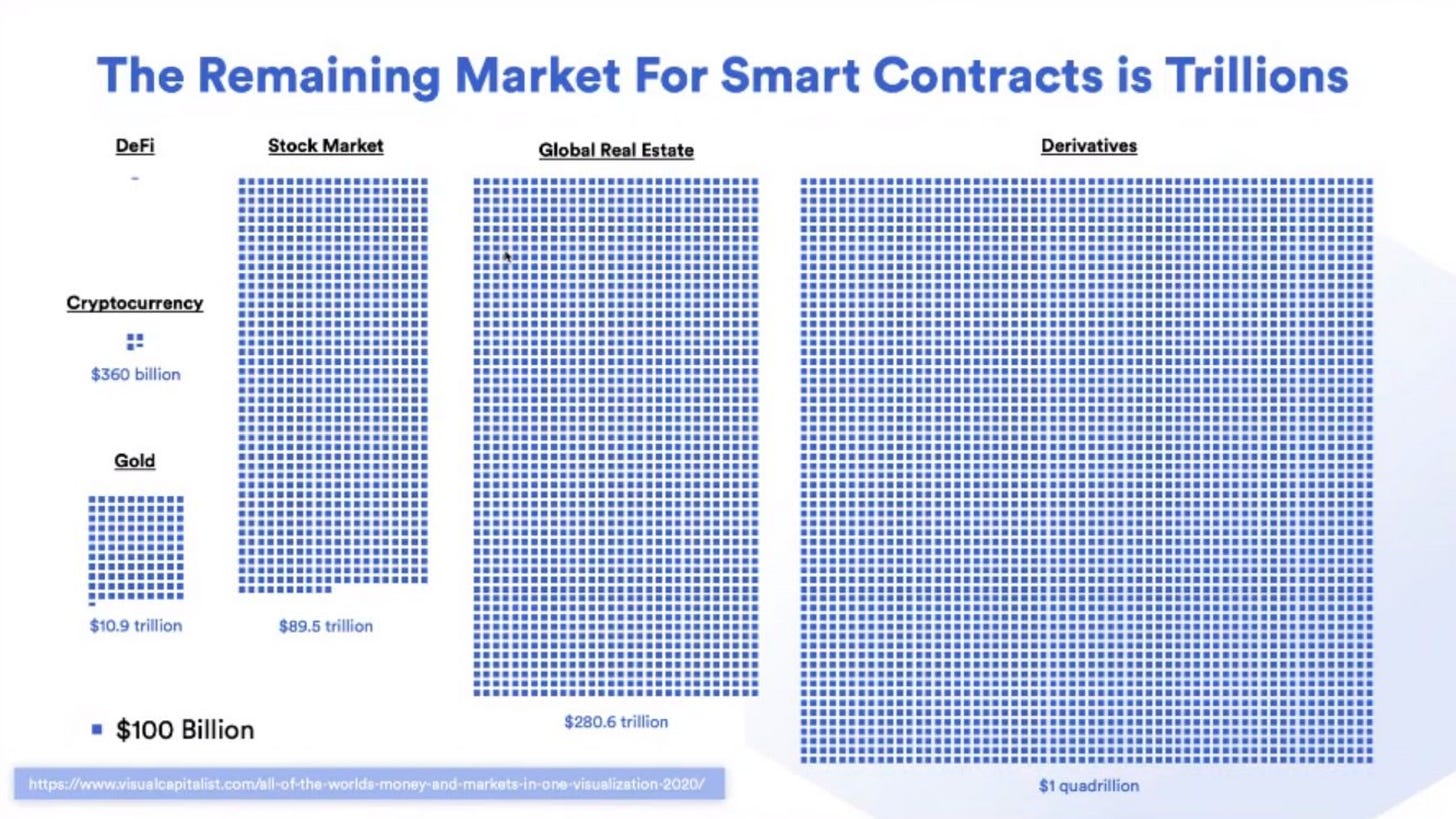 💾 21st Century Gold Rush!! Boom, Bam, Bop, the Snowflake IPO has caused all the rage this past week as the Cloud Data Warehousing company almost tripled its initial IPO price in the first 24 hours. Why was it so popping? Well, for starters, they were able to secure half a billion dollars from Salesforce and Berkshire Hathaway in Private Placement following the IPO. Combine that with the 28 million shares sold, they brought home nearly $3.4 billion. Crowning them as the largest Software IPO of all time but only fetching them spot #25 on the full All Time list. Let's take a look at the facts and why the cloud is so damn valuable.
What Makes Snowflake Stand Out
Ev's Take
It is clear things are moving "Above The Clouds" as Gang Starr would say. While the company itself has yet to become profitable, it is evident that they are paving a path to long-term sustainability as revenues increase by a 173% year-on-year. 
Big picture thinking, appetite for data usage and storage has been crazy high, and with the increase comes further complexities. Large corporations, and even smaller enterprises that may currently not have the infrastructure to deal with large inflow of data, and having the dynamic of your data change increases complexity to deliver value to your core customers. Often these companies have spent more time in organizing their data architecture instead of taking this time into maximizing areas of untapped potential. 
Services such as Microsoft and Google are enticing customers to switch from Snowflake's platform to their in-house versions. I'm curious to see how Snowflake will stand apart from their competition, as their platform relies on these services for their main business model. Will we start to see an influx of smaller emerging startups tailored to integrate and create more seamless data processes for businesses, and will this lead to a new area of untapped venture? I definitely think so! 
All in all, data is the new gold, and with all of these new cloud computing systems and services, I think we've got ourselves the 21st century Gold Rush. 
---
👀 Interesting Follows 
📱6 new iOS 14 features we love: iPhone owners, you are in for a treat
🎮 The PlayStation 4 Found Success In Simplicity
❌ Millions Of US Users To Be Hit By WeChat Block
🚗 The New Startup Pitch: We're Not Uber
---
💼 Jobs/Internships
New York
Los Angeles
San Francisco
Chicago
---
🎷 Fresh Finds
---
💯Thank You For Reading, See You Next Week!
---
What's up, my name is Evan Hiltunen! I am a recent finance grad from Indiana University and financial analyst @ Goldman Sachs. I have a strong passion for start-ups, finance, and technology, and I hope you find this newsletter informative!

I'd love your feedback - feel free to email me at thee8newsletter@gmail.com

www.e8newsletter.com