🕶e8: Businesses Start to Reopen! AirPods Would Be The 32nd Largest Company! Opportunity in Gaming Infrastructure?
👋 Good Morning and Happy Mothers Day! Welcome to the e8 newsletter, a hand-picked collection of business and start-up news, resources for entrepreneurs, job/internship postings, and noteworthy trends that are happening this week! I hope you find this weekly newsletter informative and engaging.
---
Business/Start-Up News
🚪 Businesses Start to Reopen: As we approach our tenth week since the United States instituted the national stay-at-home orders, and implemented the largest economic and tax relief bill in history as unemployment soared to 14.7%, many question if there will be light on the other side of the tunnel. As this second wave of reopenings begins for most states, it is vital our economic fiscal and tax policy be in place to ensure businesses have the ability to stay afloat until this storm settles. Small businesses are affected the most, as many might have savings to withstand a singular stormy night, but not a month, nevermind a quarter. However, most importantly, many are afraid that reopening business will lead to a devastating second wave. Dr. Ali Khan, former director of the Office of Public Health Preparedness and Response at the Centers for Disease Control and Prevention, says he is confident that a second wave will happen as a vast majority of people in the U.S. are likely still at risk of contracting the virus. Let's take a look at what went down during the week.
Democrats v. The Airlines
The airline industry, without a doubt, has experienced unprecedented levels of turbulence. The International Air Transport Association had estimated that the airline industry could face losses between $63 to $113 billion in revenues due to the pandemic. And yet, despite the immense amount of pressure the industry is facing, Democrat lawmakers decided to add fuel to the fire. Senator Maria Cantwell (D-WA) singled out Delta Air Lines, Jet Blue, and United Airlines for their decisions to cut employee hours. Why did she call them out? Under the CARES Act, the stimulus law authorized $50 billion to help airlines continue operations and help pay wages. 
While many companies are figuring out different methods to combat their enormous losses, one thing is clear and it's that fear incited by the coronavirus will likely govern far more travel decisions in the future, and to the detriment of the travel industry. 
PayPal
It's clear that though many businesses cannot accept transactions in physical stores, the stay-at-home restrictions have caused online transactions and payments to skyrocket. Paypal, a payment processing platform, has seen growth during the pandemic, adding on an average of 250,000 active new accounts every single day, accounting for a 135% increase since last month. Although the closure of shops may have hurt revenue for Square and PayPal in the short-term, they believe the crisis has expanded most companies' customer base which will contribute to long-term sustainable growth. As many start to familiarize themselves with e-payments, I wonder - will we still carry around cash as restrictions start to loosen, or is this the beginning of the transition to a cashless economy?
*Did you know that cash payments only accounted for 28% of transactions last year?
*Remember how Google announced their new debit card two weeks ago? Well, it looks like Samsung wanted to take a stab at the game as well. Check it out here.
Retail
While it's no news that brick-and-mortar retailers haven't benefited from the evolution of e-commerce, it's difficult to gauge how many doors will open back up as full effects of the pandemic aren't priced in. For those that do reopen, be sure to keep in mind that the shopping experience may not be quite the same as before. Gap announced that it has implemented a range of safety precautions in stores, including supplying associates with face masks, installing plexiglass partitions on the registers, closure of restrooms and fitting rooms, and returns will be quarantined for 24 hours. 
Openings and Closures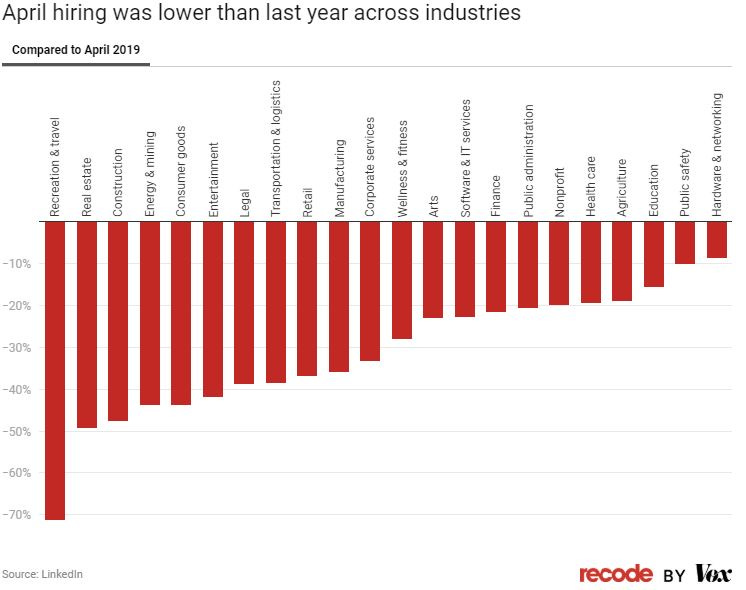 p👂🏻👁 👁👂🏻q Where Dey At Doe? Three years ago when Apple introduced the AirPods, no one thought this fashionable accessory would soon become one of the most iconic products introduced in the decade. Since launch, the earphones alone have generated more earnings than AMD, Twitter, Snap, Spotify, or Shopify...like, WOAH! As Bluetooth capabilities improve, and as the wireless market starts to evolve, Apple is strongly positioned for this large runway of growth. Approximately 90% of iPhone users still don't have their hands on a pair, and the somewhat steep price ($249 for the new 2nd generation model) doesn't seem to be dissuading millennials and Gen Zers from ascribing to the hype. While the AirPods gained momentum rapidly, Apple's other wearable accessory, the Apple Watch, has also overthrown the entire Swiss watch industry in terms of sales. Not bad, Apple!
The Facts 
🕹Let the Games Begin: Opportunities in Gaming Infrastructure: Gaming has seen an immense spike in popularity as the majority of the population is stuck at home. Multiple games have been setting records for peak player activity, and VCs are diligently scouting for opportunities to score on upcoming technologies going mainstream. However, this technology is not new, and although VR has made drastic improvements over the years, there is still no doubt real privacy and security risks exist. All aside, let's check out what's going on.
Virtual Reality
VR has been a hit in the gaming market leaving big companies like Facebook scrambling to produce more units of their successful Oculus Quest Headset. Facebook reported 5.7 million headsets shipped in 2019. Furthermore, with non-gaming industries going virtual, including music and sports, it becomes more likely that the average person might pick up a set. This expansion has led many investors to consider pouring their dry powder into this emerging market.
*Finland just utilized virtual reality to host their annual May Day celebration, and more than 10% of the population tuned in
Live Streaming and eSports
Everyone is flocking to streaming as it has become the best way to keep connected with fans in every industry. Twitch.tv has been experiencing its highest average concurrent viewers of all time at around 1.44 million and it's unlikely this growth will slow down anytime soon. This is due to the fact that many concerts have moved to "virtual" experiences, and professional athletes such as Motorsport Racers have moved to simulator racing to keep their seasons going. Formula 1 had postponed their season along with other races, thereby creating a unique opportunity to enter into the space of virtual sports. Torque eSports' All-Star Battle last March had hosted some of the world's most renowned racers. All in all, the battle racked up a total of 12.1 million viewing minutes! Oh, and let's not forget about Fortnite and the records Epic Games set last week hosting Travis Scott in their in-game concert.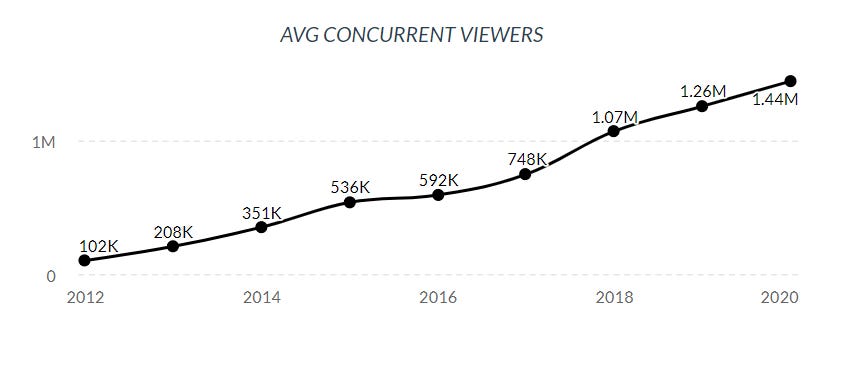 *Source: TwitchTracker
---
👀Interesting Follows
🤝 Zoom acquires Keybase to help alleviate their security problems
⚠️Wearing masks may have surprising consequences
☑️ Facebook introduces a new dark mode
📊 The state of employment in pandemic America, in 6 charts
🗝 Making smart cities cyber secure
♻️ The Hydrogen Economy's Time Is Approaching
🧯With the world distracted, the Amazon rainforest continues to burn
---
💼Jobs/Internships
New York
Los Angeles
San Francisco
*Still looking? Upload your resume on Hirehub, and get connected with recruiters!
---
👏Recommendations
Music
:
Podcasts:
---
🔥 Freebies
Is your start-up ready to apply to an Accelerator? Check out this list of over 400 accelerators you could apply to today!
Kickstart your next business venture with professional design work! Head over to Tailor Branding and simply enter the name of your company and let the magic appear in front of your eyes. Using the power of AI, creating easy-to-use branding has never been simpler.
---
💯Thank You For Reading, See You Next Week!
---
What's up, my name is Evan Hiltunen! I am a senior studying finance at Indiana University and incoming financial analyst @Goldman Sachs. I have a strong passion for start-ups, finance, and technology, and hope you find this newsletter informative!

I'd love your feedback - feel free to email me at thee8newsletter@gmail.com

www.e8newsletter.com
---
e8 Newsletter Disclosure
e8 Newsletters reflect the opinions of only the authors who are associated persons of e8 Newsletter and do not reflect the views of The Goldman Sachs Group, Inc., or any of its subsidiaries or affiliates. They are meant for informational purposes only, are not intended to serve as a recommendation to buy or sell any security in a self-directed brokerage account or any other account, and are not an offer or sale of a security. They are also not research reports and are not intended to serve as the basis for any investment decision. Any third-party information provided therein does not reflect the views of The Goldman Sachs Group, Inc., or any of their subsidiaries or affiliates. All investments involve risk and the past performance of a security or financial product does not guarantee future results or returns. Keep in mind that while diversification may help spread risk, it does not assure a profit or protect against loss. There is always the potential of losing money when you invest in securities or other financial products. Investors should consider their investment objectives and risks carefully before investing. The price of a given security may increase or decrease based on market conditions and customers may lose money, including their original investment.