🕶e8: Could Virtual Reality Concerts Be A Soon Reality? Facebook To Take Over Social Commerce? Apple Glasses Might Be Here Soon!
👋 Good Morning and Happy Sunday! Welcome to the e8 newsletter, a hand-picked collection of business and start-up news, resources for entrepreneurs, job/internship postings, and noteworthy trends that are happening this week! I hope you find this weekly newsletter informative and engaging!
*Sorry everyone, encountered some technical difficulties on the new e8 design, hopefully all will be cleared up by next week. Can't wait to show you what I've been 🧑‍🍳
---
Business/Start-Up News
🎶 Could Virtual Reality Concerts Be A Soon Reality? As millions of Americans have been "quarantine clean so relaxed", the music industry has been trying to combat the profound impact that COVID-19 had on performers and their audiences. The CEO of Wave, Adam Arrigo, believes the virtual concert experience will gain momentum rapidly in the upcoming months as many in-person concerts have been cancelled until 2021. Now, you can just stick a headset on, adjust the volume as you please, and take advantage of the dancing space within your living room as you witness an incredible, unhindered performance!
Los Angeles startup Wave is at the forefront of virtual concerts, helping many mainstream artists perform virtually. The company utilizes broadcast and gaming technology to create motion-capture performances of artists, and then transforms them into animations before releasing them into the virtual world. Recently, Wave announced their "One Wave" series of virtual concerts hosting John Legend, Tinashe, and more, allowing these artists to express and create digital avatars to represent their vision in real time. 
The Facts
Wave announced a $30 million investment round to fuel growth of its live virtual entertainment platform

Seattle VC firm Maveron led the Series B round, with participation from Griffin Gaming Partners and others, including entertainment executive Scooter Braun as well as Major League Baseball legend Alex Rodriguez

While Wave started in VR, its latest concerts and events are distributed across all major platforms, including YouTube, Twitch, Facebook, several digital and gaming channels, and through the Wave app available for Steam and Oculus

The experience transports you from reality to a place that does not exist on Earth. Wave goes beyond 360/180 video by using facial and body tracking to create avatars of the artists that can ultimately manipulate light and visuals that flow with the music
Ev's Take
While attending an online performance of your favorite artists comes nowhere near close to attending live, I do believe there is potential for companies like Wave to be able to further progress their VR technology, especially as large artists are starting to trust and adapt to this shifting landscape, and purchasing headsets influenced by new versions of VR headset hardware that are affordable. Social experiences are improving, and immersion levels are increasing; however, there is still room for visual quality to improve along with the audio quality. I am optimistic though, as video and audio quality improves year after year, especially with the roll out of 5G. I mean this is a music concert (this should be a main priority!)
VR-streaming might seem like an unusual addition to the music industry's wide range of offerings, but the possibilities are endless. Online concerts can make live shows instantly accessible and sellable, and it deepens the illusory sense of presence that we often feel towards our favorite artist. This potential for profitability is exactly why the music industry is likely to continue pushing this currently unpopular feature. 
🛒 Facebook Shops Could Be The Future of Social Commerce! Social commerce is beyond a doubt becoming an increasingly popular choice for consumer shoppers, and Facebook is looking to be the dominant player with a new feature called "Facebook Shops". The goal of Facebook Shops is, "to make shopping seamless and empower anyone from a small business owner to a global brand to use our apps to connect with customers," according to the social network.  
What We Know
Creating a Facebook Shop is fairly simple -  businesses can choose what products they would like to feature, as well as customize the appearance to showcase their brand

Along with Shops, Facebook announced an integrated messaging solution to allow shoppers to contact businesses directly and eventually make payments directly through chat

Facebook will enable purchasing in real-time with a  new 'shop' button in the explore section of Instagram 
Ev's Take
Facebook offering this service for free is genius as it will help boost consumer engagement and translate the advertising that already exists to instant purchase ability. Expect integration with Instagram, businesses will simultaneously be able to publish products on both platforms, focusing on the younger trendy demographic, compared to Facebook. "And later this year, we're adding a new shop tab in the navigation bar, so you can get to Instagram Shop in just one tap," Facebook said. 
If you're wondering how they will compete against Amazon, I don't think this is the direction Facebook is trying to take. While Amazon dominates in warehouse and fulfillment capabilities, Facebook Shops will take advantage of their product discovery ecosystem, remaining better suited for smaller independent stores. I'm pretty confident Facebook has the necessary tools to help expand and integrate many businesses to Facebook Shops, especially as consumer behaviors are shifting and may outlast the relaxation of lockdown measures.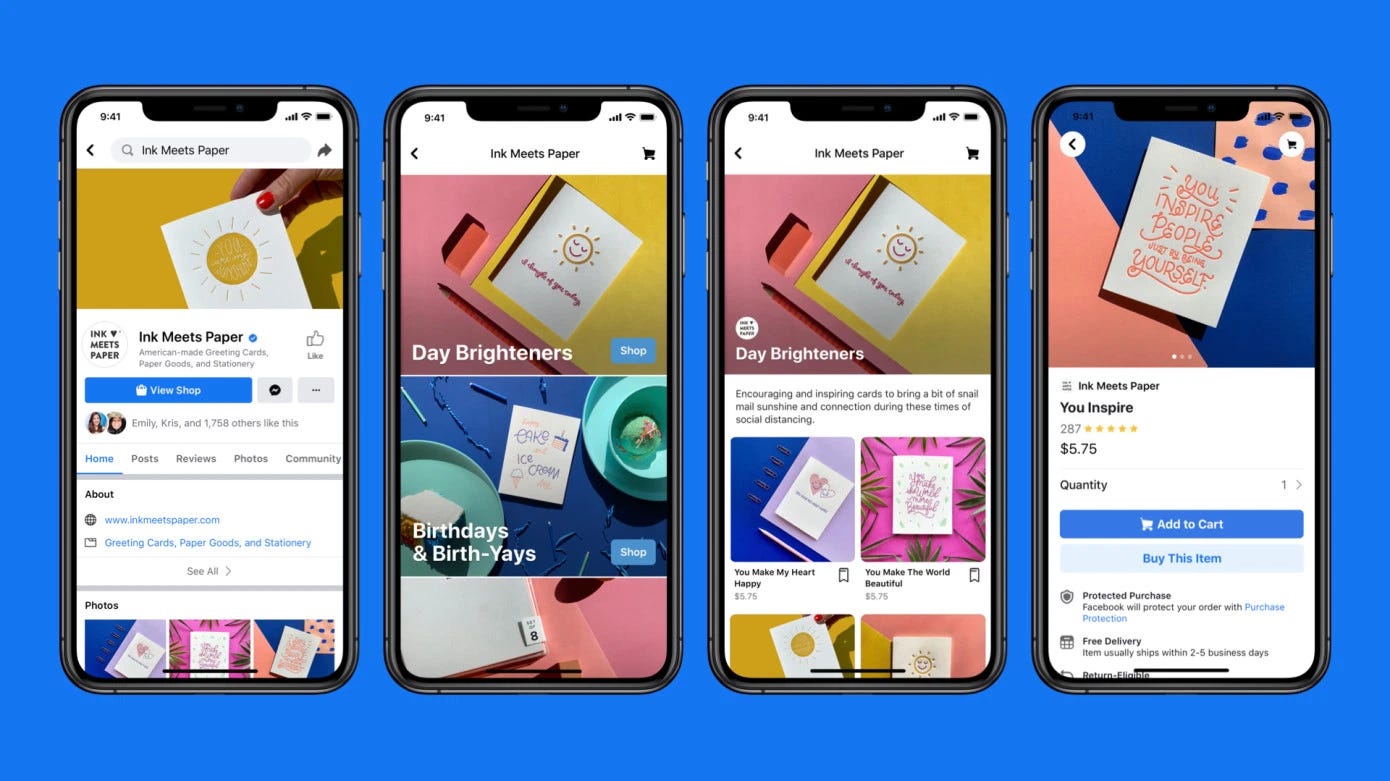 👓 Apple Glasses Might Be Apple's Next Big Product! For years, there had been rumors that Apple was working on AR glasses. Alas, it seems as though the speculation was warranted, and Apple's AR glasses are on the brink of release! 
What We Know So Far
The Name? I bet you can guess it... Apple Glass! Makes sense seeing how Apple has named other wearables of similar fashion, such as the Apple Watch 

In an attempt to appeal to the masses, Apple designed the glasses to be sleek, yet stylish ...and not too futuristic (thank the Lord!)

Similar to the Apple Watch, expect for there to be multiple frame color options 

Apple just acquired VR media-streaming company NextVR, and previously acquired AR headset lens maker Akonia Holographics to help further progress their AR capabilities

*LiRDAr sensor will sit on the top right of the glasses

For those unfamiliar, LiRDAr is a system that can 3D map an environment by calculating the distance between different points. As opposed to Apple's other competitors that currently offer this technology, Apple has developed a seamless way for users wearing the glass in their surroundings

Unlike the iPhone or iPad, Apple Glass does not have any built-in camera options. Although this would be an awesome feature, it would lead to uncomfortable human interaction, especially with regards to face-to-face contact when the other individual can easily distinguish a camera pointed directly at them! But dang, that would be pretty damn sweet. Maybe we will see this in the future as new wearable smart technology becomes more accepted
Ev's Take
Remember Google Glass? How about Snapchat's Spectacles? Or the HoloLens or Magic Leap? Facebook is also working on AR glasses, as well as Niantic. The landscape could suddenly get crowded fast. All in all, the biggest challenge will be for users to adjust to a new type of wearable technology that has failed in the past, and the $499 price.
---
👀Interesting Follows
🎮 The PS5 is huge, according to internet detectives
💸 How The Fed Literally Makes Money
🚗 Why Do So Many Self-Driving Vehicles Look "Cute"
🌱 Covid-19 Will Drive A Decade Of Tech Growth In Just Two Years
🛸 This Flying Car Looks Like The Delorean From "Back To The Future"
📈 Startups' Valuations Are Climbing More Slowly Since Covid-19
---
💼Jobs/Internships
New York
Los Angeles
San Francisco
---
👏Recommendations
Music
-
Video
---
🔥 Freebies
Pimp My Google CRM - Check out Relate's Google CRM extension that spices up the whole experience. Relate gives you a full page canvas, allowing flexibility on how to display each row and column. Definitely worth a look!
---
💯Thank You For Reading, See You Next Week!
---
What's up, my name is Evan Hiltunen! I am a recent finance grad from Indiana University and incoming financial analyst @Goldman Sachs. I have a strong passion for start-ups, finance, and technology, and I hope you find this newsletter informative!

I'd love your feedback - feel free to email me at thee8newsletter@gmail.com

www.e8newsletter.com
e8 Newsletter Disclosure
e8 Newsletters reflect the opinions of only the authors who are associated persons of e8 Newsletter and do not reflect the views of The Goldman Sachs Group, Inc., or any of its subsidiaries or affiliates. They are meant for informational purposes only, are not intended to serve as a recommendation to buy or sell any security in a self-directed brokerage account or any other account, and are not an offer or sale of a security. They are also not research reports and are not intended to serve as the basis for any investment decision. Any third-party information provided therein does not reflect the views of The Goldman Sachs Group, Inc., or any of their subsidiaries or affiliates. All investments involve risk and the past performance of a security or financial product does not guarantee future results or returns. Keep in mind that while diversification may help spread risk, it does not assure a profit or protect against loss. There is always the potential of losing money when you invest in securities or other financial products. Investors should consider their investment objectives and risks carefully before investing. The price of a given security may increase or decrease based on market conditions and customers may lose money, including their original investment.