🕶e8: Don't Let Asana Heat Up!
👋 Good Morning and Happy Sunday! Welcome to the e8 newsletter, a hand-picked collection of business and start-up news, resources for entrepreneurs, job/internship postings, and noteworthy trends that are happening this week! I hope you find this weekly newsletter informative and engaging!
~ Sending this week's out on Monday to see if it will trick Google to get out of peoples promotions. (Back to Sunday next week) Also, only wrote one story and included fewer internships, music, and interesting follows to see if this might do the trick. If not, we will have to make the switch to Mailchimp soon. If anyone has any tips or knows about this ish let me know!!! Have a great week!
---
👨‍💻 Don't Let Asana Heat Up! With contactless solutions and remote work becoming the new normal, many SaaS companies are looking to use this opportune time to push their companies to the next level. This past week we saw Asana go public with their direct IPO listing, generating headlines for the company and bringing in good exposure for their initial trading price. The workplace collaboration company has been following the sector trend of steady growth. Let's take a closer look into what's driving this success!
The Facts
What's The Point?
With all our data being online these days it can be hard to both manage and make it easily accessible for a whole team. Asana differentiates itself from other collaboration tools by integrating your existing platforms into their workflow application. From there your team can collaborate on group projects, analyze data, and set up automations to ease work loads.
Big and Small!
Asana attracts new clients by providing a Freemium model - allowing users to try out the basic version of their software in hopes of landing the sale and convincing the company/users to transfer their files over. This also leads to customer retention as it requires a high level of initial commitment from the purchasing party.
Ev's Take
Asana has an outstanding go-to market strategy where consumers are given options. They offer hybrid and self-service models which means that individuals users are given both a free, and premium option, and corporations can buy business packages. I think it's great that they cater to everyone and not exclusively large corporations or small startups, allowing both to utilize and benefit from the platform. 
Asana is definitely on track for success hooking consumers with free versions before successfully selling the premium product. I mean, if you've already moved some or even all of your workflow to a new system, why not just purchase the easy premium upgrade and continue? A lot of business software companies have seen retention success with this convenient upgrade system, so it's no surprise that Asana has already reported a retention rate of 125% a year for customers spending more than $5,000 on the platform.
To conclude, I'm excited to see the space develop as these companies will be essential to our daily lives and we are only at the beginning stages. I personally tried out Asana two years ago and switched to Monday and have been using that ever since. I'm curious to hear what workflow cloud software's you guys have been using, shoot me back an email!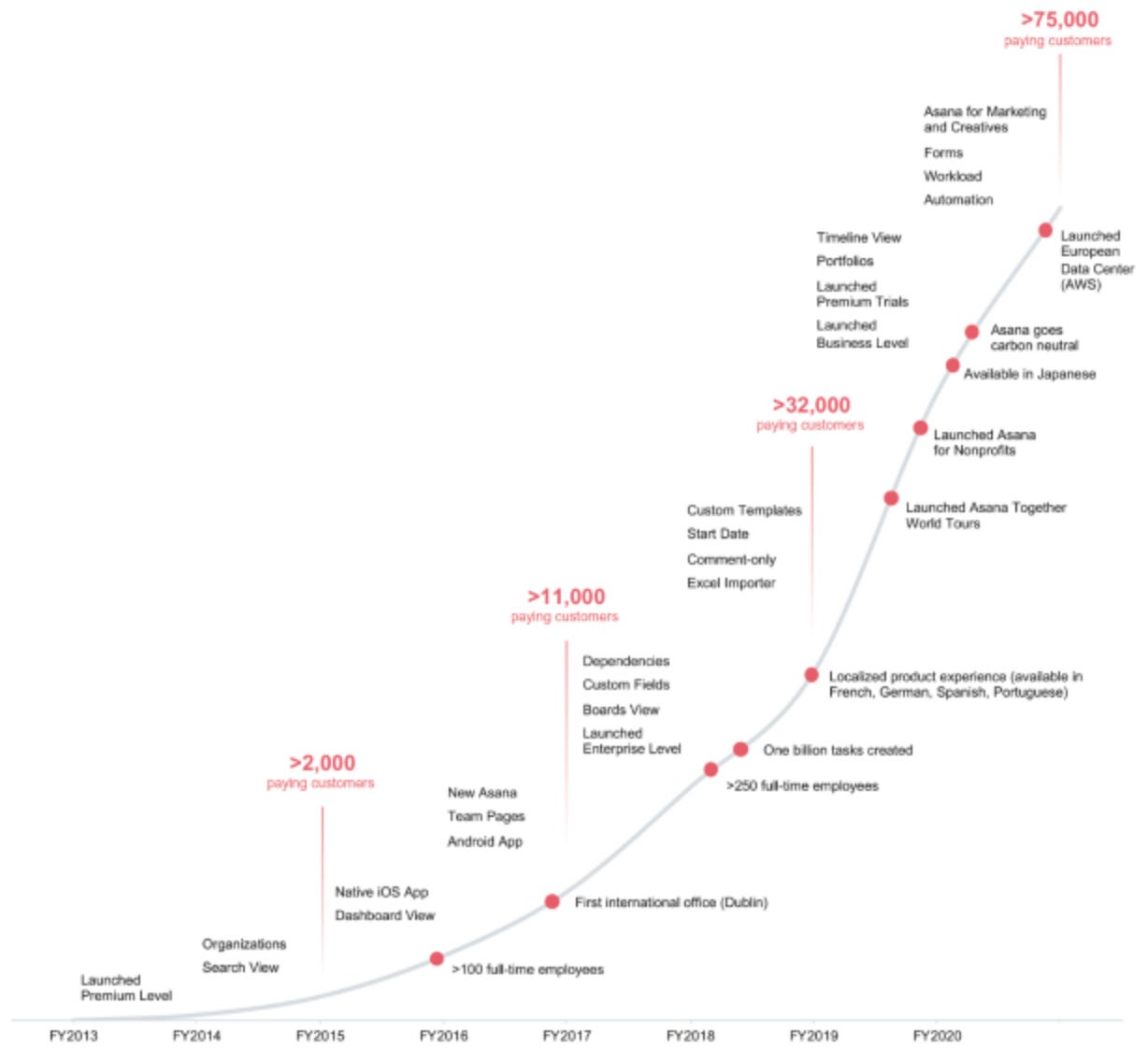 ---
👀 Interesting Follows
📈 Controversial Former Uber Exec Emil Michael Has Registered Plans for a $250M SPAC
📹 What Comes After Zoom Fatigue
🌌 Scientists Dazed And Confused By Extraordinary Amount Of Gold In The Universe
🍫 Meet Cocoa Press, The Philly Startup Making A 3D Printer For Chocolate
---
💼 Jobs/Internships
New York
Los Angeles
San Francisco
Chicago
---
🎷 Fresh Finds
---
💯Thank You For Reading, See You Next Week!
---
What's up, my name is Evan Hiltunen! I am a recent finance grad from Indiana University and financial analyst @ Goldman Sachs. I have a strong passion for start-ups, finance, and technology, and I hope you find this newsletter informative!

I'd love your feedback - feel free to email me at the e8newsletter@gmail.com

www.e8newsletter.com