🕶e8: SPAC Is BACK And Should You Care?
👋 Good Morning and Happy Sunday! Welcome to the e8 newsletter, a hand-picked collection of business and start-up news, resources for entrepreneurs, job/internship postings, and noteworthy trends that are happening this week! I hope you find this weekly newsletter informative and engaging!
---
Business / Start-Up News
📈 SPAC Is BACK And Should You Care? SPACs ("Special Purpose Acquisition Companies") have been around since the 1980's, but have only been gaining a lot of attention recently because of high-profile individuals such as Bill Ackman proving an easier way to go public rather than the traditional expensive and lengthy IPO process. Renowned Silicon Valley Investor and Sacramento Kings owner Vivek Randive sees potential as SPACs are capturing the "greatest wealth creation opportunity in history." As an average retail investor, it sounds pretty exciting to be able to be a part of this. Okay I know y'all also excited but let's first get to the basics, learn what these thangs are, and how they will influence the way new companies approach going public in the near future.
SPAC, What Is You?
Special Purpose Acquisition Companies are essentially blank-check companies that allow investors to seek hundreds of millions of dollars to pursue a takeover of one or more unspecified businesses or assets to be identified after the IPO within 24-months with the capital raised. In a typical SPAC IPO, the public investors are sold units, each comprising one share of common stock and a fraction of a warrant to purchase a share of common stock in the future. The per unit purchase price is almost always $10.00. Following the IPO, the units become separable, such that the public can trade units, shares, or whole warrants, with each security separately listed on a securities exchange. So what's the benefit? Private Companies are choosing to go public via SPACs because it involves fewer regulatory hurdles than the traditional IPO process, along with an expedited timeline, and more certainty around companies' valuations and equity capital raised. 
The Facts
Ev's Take
I personally am interested in SPACs. It presents a great opportunity in the public equity market for average investors to enter the big boy leagues without accredited or qualified status. SPACs have been around for a while, however, I think greater popularity will translate into the improved reputation of their governance practices. Keen investors like Chamath Palihapitiya of Social Capital also help put SPACs on the map and make these deals more attractive. Another interesting thing that I believe will come about is an alternative way to raise funds through the public market. Just take a look at the new offering from AngelList which was done through rolling funds (short-window raises for small very early investments). 
SPACs have raised a staggering amount, surpassing $31 billion in 2020. And I don't think they are letting go of the gas any time soon as they prove suitable for times like this - a pandemic when the traditional IPO process is far more expensive and risky, and market uncertainty is at a high. One thing to note is that many of these companies that are bought by the SPACs emerge from private-equity portfolios as more mature businesses with better financial health. After all, SPACs are just top-tier management and leaders trying to find diamonds in the rough. 

🏦 Mobile Banking On The Rise With One Hidden Surprise! Have you ever used Apple's Screen Time feature? I don't even bother to check mine lol. COVID turned our two week stay-at-home order into 7 months (and counting),  and has impacted many different areas of our everyday life, especially the use and increased adoption of mobile apps. Many, however, don't realize that this increased usage is a gold mine for hackers, equating to an increase in the number of cyberattacks. As we head into the fourth industrial revolution, this one geared towards universal connectivity and digitalization, securing the payment infrastructure is ever so crucial. Let's dive into what's currently going on and what to expect!
The Facts
Don't Say Ev Didn't Warn Yah
While some companies are cashing in the munay with their significant increases in DAU ("Daily Active Users"), they shouldn't get too greedy. This past June, the FBI issued a public service announcement describing the serious threat of cyber security with the increase in mobile app usage. Keep in mind, not all apps are seeing the same explosive growth. For instance, sports news and travel apps have taken a significant hit. However, mobile banking experienced a 50% increase in usage, making it a clear target for attackers to exploit users with techniques such as app-based trojans and fake banking. (Remember if you send Elon 1 BTC he won't send you 2 back!) 
What The Heck Is An App-Based Trojan?
This is some pretty sketch stuff. Think of these trojans as mobile apps that replicate and look just like the ordinary banking app you would download from the app store, but instead have preinstalled malware that remains on the device to extort personal and financial information. 
Ev's Take
This 4IR is happening at an exponential rate, creating possibilities for billions of people to be connected through smart devices with incredibly advanced processing power and limitless access to knowledge via AI, IoT, quantum computing, smart contracts, and many other things far over my head. 
Now is the time for banks to take proactive measures to increase the necessary protective measures. Where there is money, there is opportunity to leverage security flaws and access weak entry-points to crack the code of banking apps - and for hackers that's a piece of cake.
Given that mobile banking has not yet proven to have top-notch security, and thus consumer trust in large financial institutions not yet earned, I think it could take a few more years to fully implement and adopt these services. The digital security protocols like secure sockets layer (SSL) and transport layer security (TLS) in mobile banking apps create encrypted links between every entity, and are critical to preventing phishing and man-in-the-middle attacks. The million dollar question remains: How can we create a transparent, yet secure system to facilitate payments and other data transfer? Could Smart Contracts pave this new wave? Tune in next week and we will find out!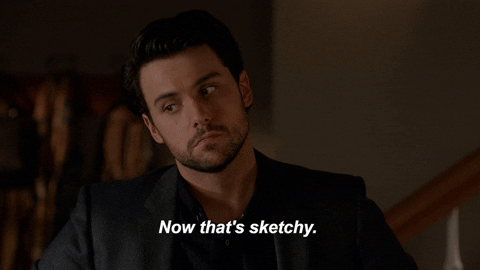 ---
👀 Interesting Follows 
🖥️ Should You Trust A Computer Algorithm To Run Your Portfolio
🚢 Proposed Cargo Ship Uses Wings to Travel With Wind
🏎️ Moody's Says Car Sales Will Not Recover To Pre-Crisis Levels Until The Middle Of Decade
🏘️ Why Real Assets Will Soar In The Recovery
---
💼 Jobs/Internships
New York
Los Angeles
San Francisco
Chicago
---
🎷 Fresh Finds
---
💯Thank You For Reading, See You Next Week!
---
What's up, my name is Evan Hiltunen! I am a recent finance grad from Indiana University and financial analyst @ Goldman Sachs. I have a strong passion for start-ups, finance, and technology, and I hope you find this newsletter informative!

I'd love your feedback - feel free to email me at thee8newsletter@gmail.com