🕶e8: Tesla To The Moon, Or KABOOM? 100% Accurate Coronavirus Test! How Much Of The Internet Is Fake?
👋 Good Morning and Happy Sunday! Welcome to the e8 newsletter, a hand-picked collection of business and start-up news, resources for entrepreneurs, job/internship postings, and noteworthy trends that are happening this week! I hope you find this weekly newsletter informative and engaging!
---
Business/Start-Up News
🕺 Classy Bougie Ratchet. If you're not chopping your own bangs, chances are you've either mastered or at the very least heard of, "throwing it back" (we don't judge). Tiktok which allows users to post 15-second quirky videos has topped two billion downloads. The vast majority of Tiktok's traffic is attributed primarily to Indian users, accounting for 30.3% of installs, followed by China with 9.7%, and the U.S. with 8.2%. With over 315 million downloads this past quarter, the social video giant has set a record for the most amount of downloads ever within three months. While the platform has seen unprecedented levels of popularity and exponential growth in their user spending, TikTok has laid down a successful foundation for the short-term, but will this retention last post-crisis, or is this the peak?
The Stats
Lifetime user spending rose to $456.7 million, doubling what the app had generated when it reached 1.5 billion downloads just a couple months ago

TikTok attracted over 12 million unique U.S. visitors in March (including my mom - things could get weird) for a total of 52.2 million users

Time spent within the app also surged 10.8% in March, totaling eight hours per month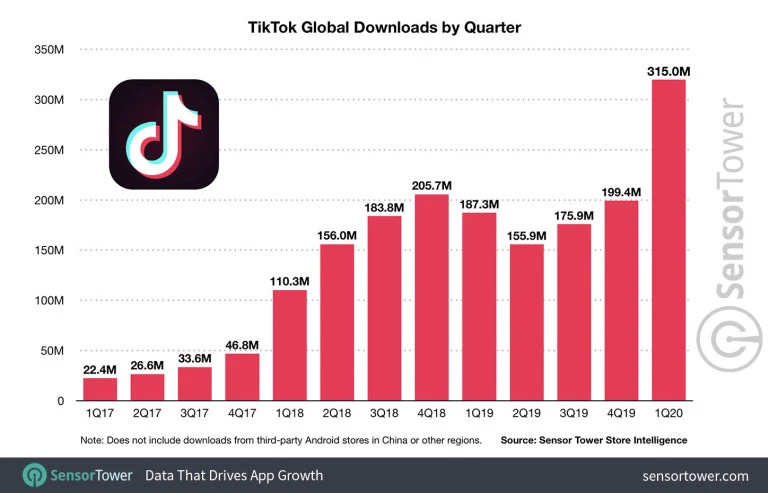 🤡 How Much Of The Internet Is Fake? Turns out a LOT more than you'd expect. According to a study early this year, more than 40% of web traffic is non-human. Recently, researchers at NYU had discovered many Instagram groups with thousands of members exchanging likes and follows with each other (deemed engagement pods). This form of boosting engagement on users' posts helps trick the algorithm into increasing the visibility of those users' to the public.
The Facts
Instagram replaced their old algorithm, which displayed content in chronological order, with one that prioritizes posts that the algorithm believes will be of most interest based on your past behavior 
Research indicated that nearly two million posts had been exploited, with over 100,000 members taking part in engagement pods
Unstoppable
With many engaging and manipulating one other's postings, this fake engagement helps boost real organic growth. The users are now replacing the "bots" and Instagram's algorithm can't determine who is who
🔊 ITS LIT! said 27.7 million players who attended Travis Scott's in-game performance via Fortnite, the second virtual concert Epic Games has hosted. Fortnite is the only game thus far that has offered such a unique experience to its players. Perhaps, Fortnite may be the only game that could pull such a thing off? It's clear that even though the concerts may seem corny, many still enjoy the Astronomical experience.
Who Benefits?
...everyone!
Travis Scott
According to Alpha Data, Travis Scott's listening streams had increased by 26%, and hits such as "Stargazing" topped 50% ahead of the show
The concert contributed to the hype of "The Scotts", a new teased single that only Fortnite attendees could witness

"The Scotts" had the biggest global streaming debut, accounting for 7.5 million plays, surpassing Billie Eilish's "No Time To Die"
Fortnite
Topping the charts on free games to play by revenue in 2019, Fortnite's revenue was a ridiculous $1.8 billion which primarily consisted of in-game cosmetic upgrades known as "microtransactions"
While capitalizing on this increasing trend by offering limited edition Travis items, emotes, and more, Fortnite's live event further helped boost activity to players who have drifted to other multiplayer games
*For You Playstations Nerds: PS5 Might Have Leaked
*If you didn't get a chance to attend the concert, you can check it out here! 
🚀 Tesla To The Moon, Or KABOOM? Tesla has had a very interesting year from a 52-week low of $176.99 and a high $968.99. Tesla shares, relative to the broader market which is at a loss of 14%, are up nearly 65%. And yet, on Friday morning, Elon Musk tweeted that he believed his stock price was "too high." Within minutes of the tweet, shares fell by nearly 12%. On Wednesday, April 29th, Tesla reported earnings of $16 million in the first quarter (9 cents per share vs. GAAP loss of $4.10 per share a year ago). These earnings are quite impressive given the difficulties the auto manufacturer has been facing given supplier shutdowns, as well as lower consumer discretionary spending. Now, the big question is whether Musk will deliver his target of 500,000 vehicles by the end of this year?
What To Look Out For
Second-quarter numbers are anticipated to be worse than expected, with the second half of the year nearly impossible to interpret or predict due to uncertainty of the duration and impact of the virus
Model Y delays affect plans as it was projected to outsell every other vehicle according to Musk, and was part of his plan to boost deliveries globally by more than 36% this year
This next quarter is going to be very interesting with many unknowns. Although Elon may not accomplish what he says in time, he always delivers, and his product always exceeds expectations!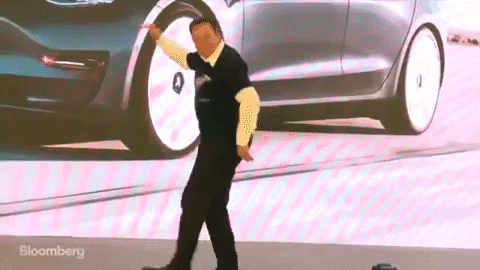 ---
👀Interesting Follows
🤔 Why Is 6 The Number Of Feet We Have to Distance From One Another?
💵 Global-View Of How Consumer Behavior Is Changing Amid COVID-19
✅ How This Pandemic Could Help Fix Capitalism?
😨 Tensions Rise As States Start To Reopen Businesses!
🧪 100% Accurate Coronavirus Virus Test! 
🌿 The Latest State Of The Cannabis Industry
📱 Did 5G Cause The Corona Virus?
---
💼Jobs/Internships
New York
Los Angeles
San Francisco
Chicago
---
👏Recommendations
Music:
Drake - Dark Lane Demo Tapes
Travis Scott- "The Scotts"
Books:
Charles Duhigg from The New York Times writes The Power of Habit to explore the science behind human behavior and how habit formation can become an integral part of the reader's life. Duhigg dives into hundreds of scientific papers and corporate cases, including extensive interviews with accredited behavioral scholars, to uncover the power of habit recognition and rebuilding. Thank you Connor Busbia for the suggestion!
"Once you understand that habits can change, you have the freedom and the responsibility to remake them. Once you understand that habits can be rebuilt, the power of habit becomes easier to grasp and the only option left is to get to work" - Charles Duhigg
---
🔥 Freebies
👔 Check out this active list of companies still hiring! As many businesses find themselves mandatorily closed due to the pandemic, people are left without a paycheck and looking to find work. Thankfully, our friends over at levels.fyi have been keeping an updated list of all the companies looking for positions. They allow for easy position filtering and a verified salary system that sends reports about position salaries based on what companies are paying for them!
📄 In need of legal documents for your startup? Avodocs got you covered! Have you ever had that one co-founder babble your idea to a VC just to get your idea stolen? Well, have no fear, Avodocs is here! They have many of the basic legal document templates that any new company is looking for when establishing themselves. From Privacy Policies to NDAs and SaaS Agreements, they've got you covered!
🧘 Do you live in LA and need some space? Headspace is currently offering free premium subscriptions for all L.A county residents. Guiding you through proven research, they redefine what it means to meditate. A sleek user interface, cute aesthetic, and meaningful meditation sessions keep us coming back day after day to practice the art of mindfulness.
---
*Sponsored
💏 Scramble Is Currently Recruiting For Summer Interns! 
Scramble is a start-up dating platform that allows students to connect and send messages to their campus crushes. After successfully launching in a test market in early 2020, Scramble is expanding to new schools and adding new products. The Scramble Team is currently looking for interns with interest in joining:
UI/UX Design, Software Engineering, Business Management, and Campus Ambassador teams.
To apply or learn more, fill out this Google Form, or email team@scramble.fun
*All positions are able to be completed remotely
---
💯Thank You For Reading, See You Next Week!
---
What's up, my name is Evan Hiltunen! I am a senior studying finance at Indiana University and incoming financial analyst @Goldman Sachs. I have a strong passion for start-ups, finance, and technology, and hope you find this newsletter informative!

We'd love your feedback - feel free to email us at thee8newsletter@gmail.com

www.e8newsletter.com
---
e8 Newsletter Disclosure
e8 Newsletters reflect the opinions of only the authors who are associated persons of e8 Newsletter and do not reflect the views of The Goldman Sachs Group, Inc., or any of its subsidiaries or affiliates. They are meant for informational purposes only, are not intended to serve as a recommendation to buy or sell any security in a self-directed brokerage account or any other account, and are not an offer or sale of a security. They are also not research reports and are not intended to serve as the basis for any investment decision. Any third-party information provided therein does not reflect the views of The Goldman Sachs Group, Inc., or any of their subsidiaries or affiliates. All investments involve risk and the past performance of a security or financial product does not guarantee future results or returns. Keep in mind that while diversification may help spread risk, it does not assure a profit or protect against loss. There is always the potential of losing money when you invest in securities or other financial products. Investors should consider their investment objectives and risks carefully before investing. The price of a given security may increase or decrease based on market conditions and customers may lose money, including their original investment.